25+ Crochet Santa Claus Ideas
Christmas may celebrate the birth of Jesus Christ, but Santa Claus is arguably the season's most famous figure.
There are many ways to incorporate Santa-themed elements into your holiday decoration, much like there are many ways to use crochet techniques to bring them to life.
You can crochet Santa ornaments, little stuffed figures and much more than that. In fact, while it would be very different and likely not as warm and cozy, you could even crochet Santa hats for your family or little Santa costumes for babies and toddlers.
And while crocheting a whole full size Santa costume would be a lot of work, you can absolutely make sweaters that resemble Santa's suit or feature his figure.
The sky may not be the limit when it comes to the number of Santa related crochet projects you can make this Christmas, but it comes quite close.
Still need ideas or patterns to guide your efforts? That's what we're here for. Have a look at these Crochet Santa Claus Ideas and we're sure you'll find something Santa themed you'd like to make.
Santa Badge Decoration
Crochet Santa's Beard
Santa Door Hanger
Santa Claus Doll
Amigurumi Santa Ornament
Mrs Santa Claus Doll
Santa's Gift Basket
The Santa Bust
Santa Clause Face Motif
Santa Purse
Child's Santa Slippers
Christmas Slippers
Scandinavian Santa Gnome
Santa Face Ornament
Santa Frame Ornament
Crochet Santa Pixel Square
Santa And His Mini Elfus Free Pattern
Wine Bottle Santa Apron
Santa And Christmas Tree Wreath
Candy Cane Santa Bag
Huggable Santa Pillow
Santa (Chocolate Cover) Decoration
Santa Motif
Santa Pet Sweater
Crochet Santa Christmas Ornament With Gift Slit
Mr. Claus Potholder
Christmas Craft: Kids Handprint Snowman Ornament DIY Tutorials
If you're looking for a fun Christmas craft that you can do with the kids then here is another one: Make your very own Christmas Kids Handprint Snowman ornament with fingerprints, it will be so special and memorable for long. I have shared so many handprint and footprint crafts for babies and kids before, you will love doing these crafts especially you have little kids around. The collection of Hand & Footprint Art DIY Ideas and Projects is great for kids, gifts and even home decorations. Halloween Handprint and Footprint Craft can be great keepsake craft idea, they can be made on wall canvas to keep tracking on how your kids grow every year, perfect for Halloween parties when you are going to be the host, too.
—- More DIY Ideas —-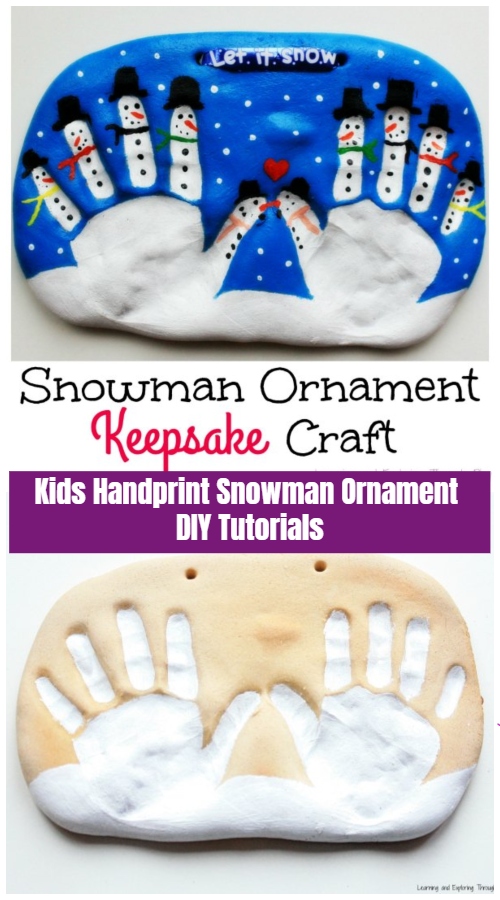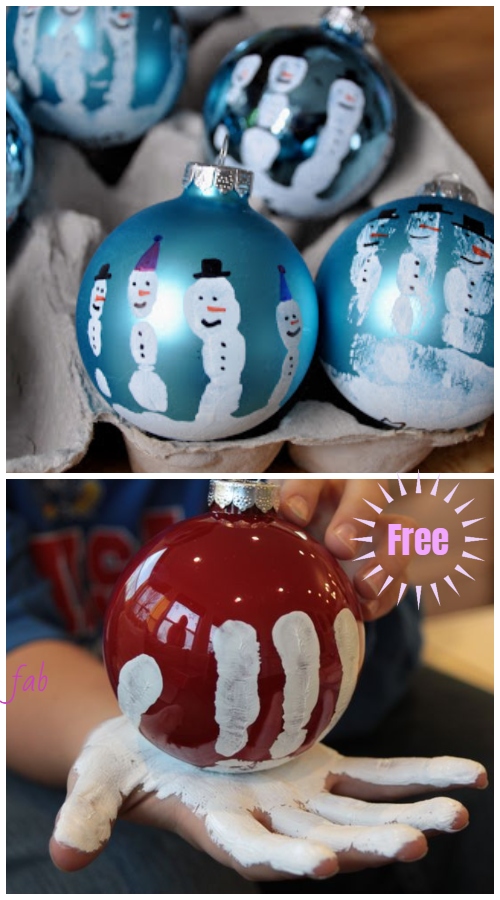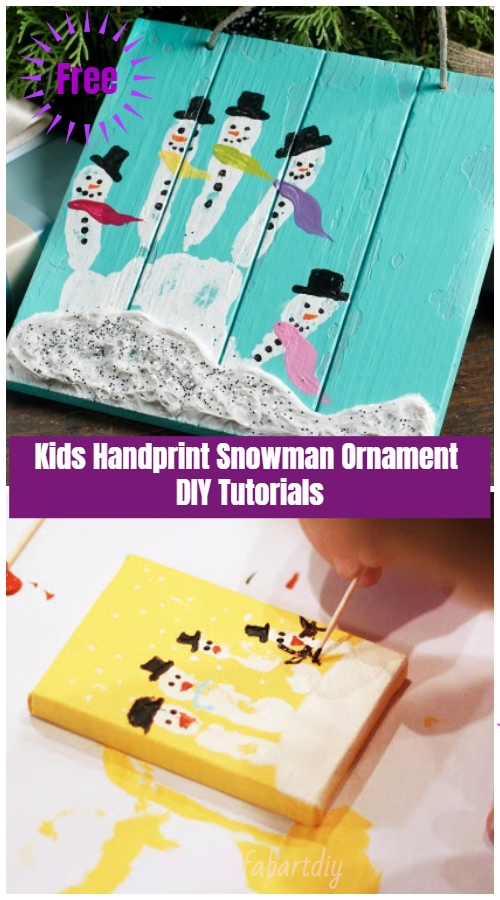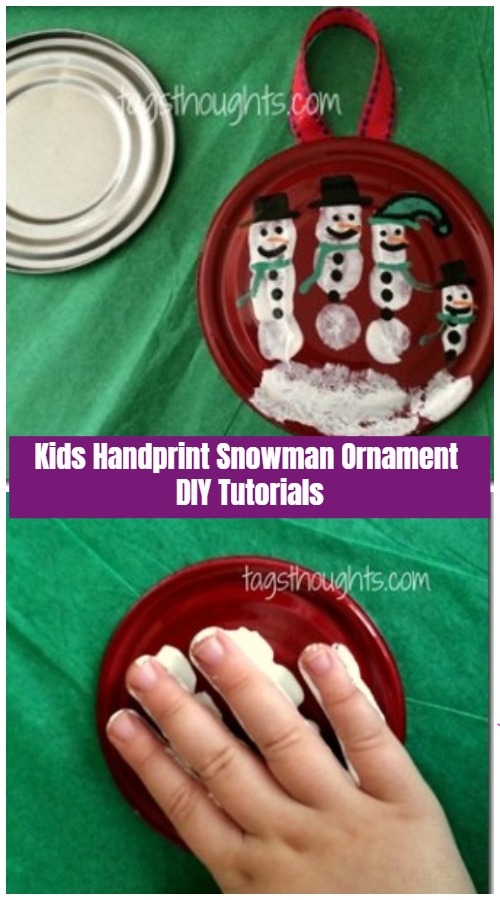 Kids Craft: Fun Yarn Birds DIY Tutorial – Video
Hi, yarn lovers, instead of crochet and knitting, here comes an easy and fun yarn crafts to use your leftover yarn scraps – Fun Yarn Birds DIY Tutorial. This adorable ornament out of only yarn, piece of tissue paper and small cardboard. They make great gifts and they cost next to nothing to make. These birdies are button cute, and kids friendly. I also have some other yarn projects you would love to check out, and I recommend the Princess Leia Yarn Wig for Halloween, the Simple Yarn Winter Hat Ornament for Christmas Decoration. These yarn birdie are easy and fun to make in minutes and you can make your own by using different colored yarns and creating more fun patterns. They can be great ornaments for holidays or home decoration elements for kids room, such as birdie mobile. The cutest yarn birdies can be good gifts for babies and little kids, too.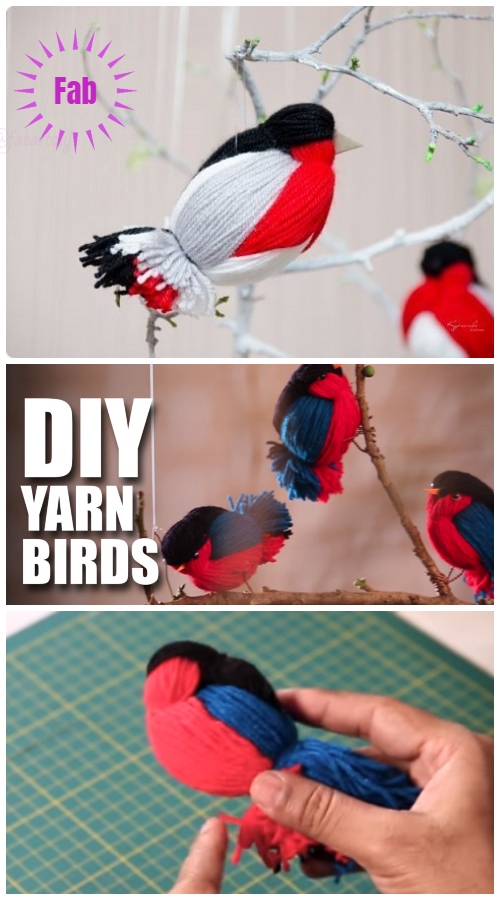 How to make DIY Fun Wooly Birds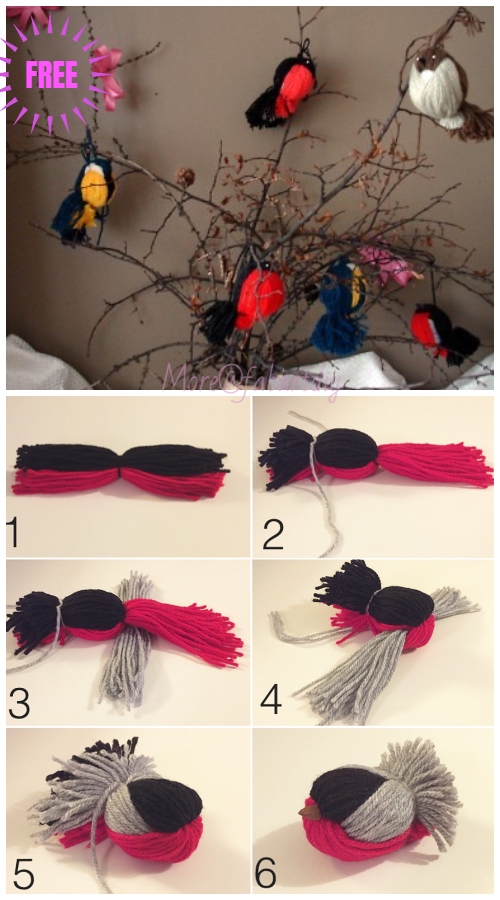 Bullfinch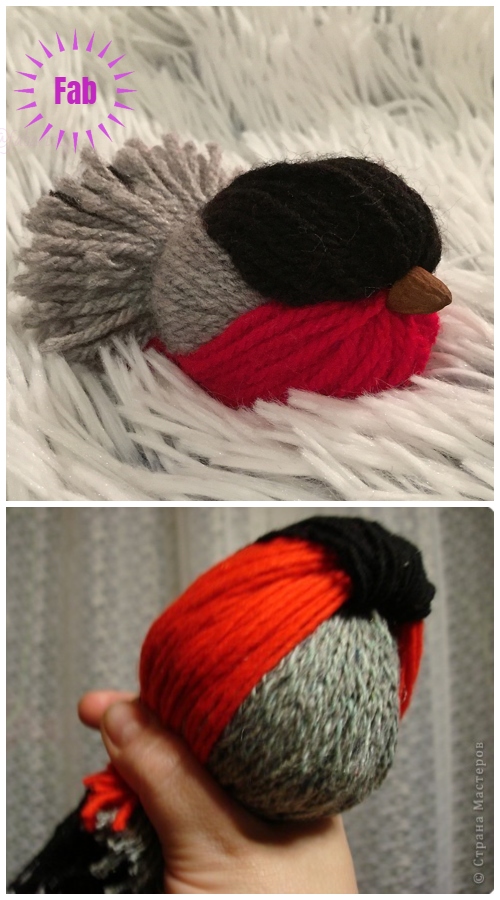 Halloween Pixie Tinkerbell Pumpkin Carving DIY Tutorial with Tips
Halloween is just around the corner, do you and your little angles want something different from traditional Jack-O lantern and witches and ghosts of the holiday season? If you still don't have the highlight pumpkin of this year, no need for panic, you still have time, and we have a super cool and creative idea for you. Great you are here to check out this great tutorial. Tinkerbell to the rescue! We have so many Halloween decoration ideas and party treats that you won't miss, just click the link and you will get inspired for your Halloween party more exciting this year. The easy to DIY Halloween decorating list is an fabulous collection that you should definitely go check out, The party snacks and treats and the ghosty lollipop design are just fun and spooky for any kids party. Tinkerbell is adored character , that most often remind us to our childhood, and besides that Tinkerbell on a pumpkin will look extremely cute and adorable.
There are tips to make your pumpkin carving much easier with hot knife, and drilling the pixie holes to make the sparkly holes of lighting.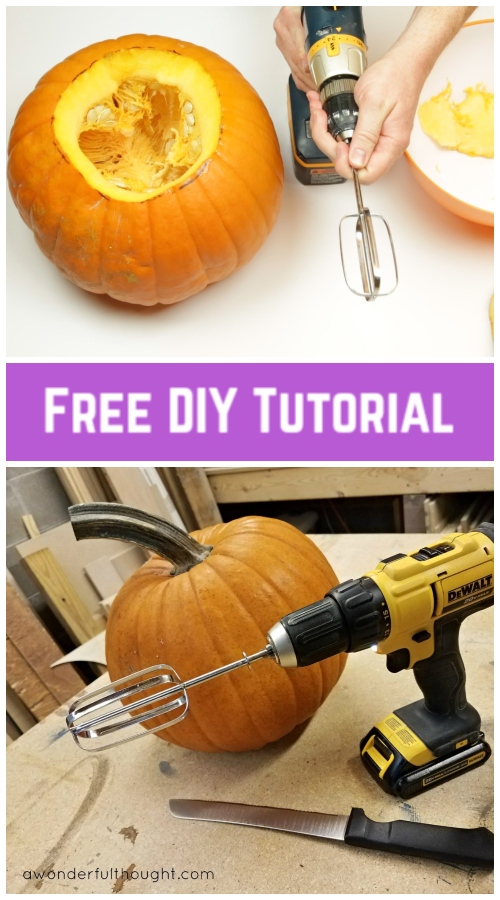 Learn how from Kimberly here: CLEAN OUT A PUMPKIN IN 2 MINUTES! and a video tutorial by Olsen Media Network.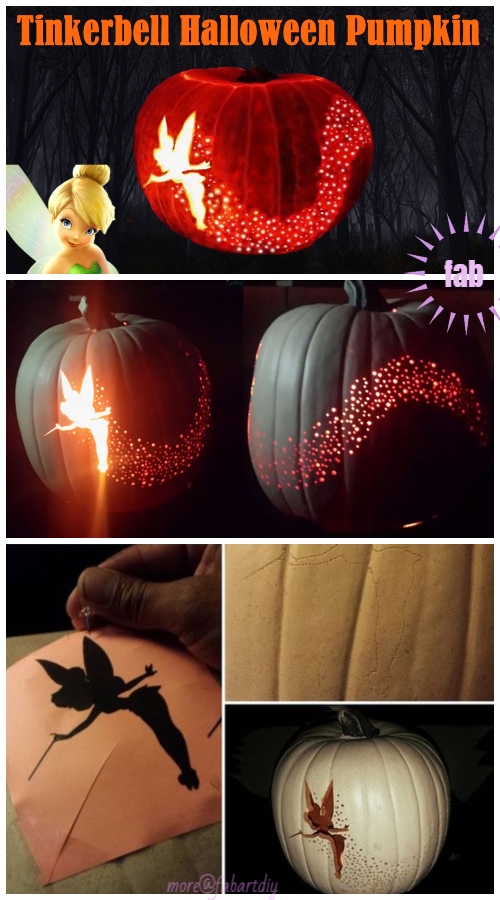 You can get the full step by step tutorial and free Tinkerbell silhouette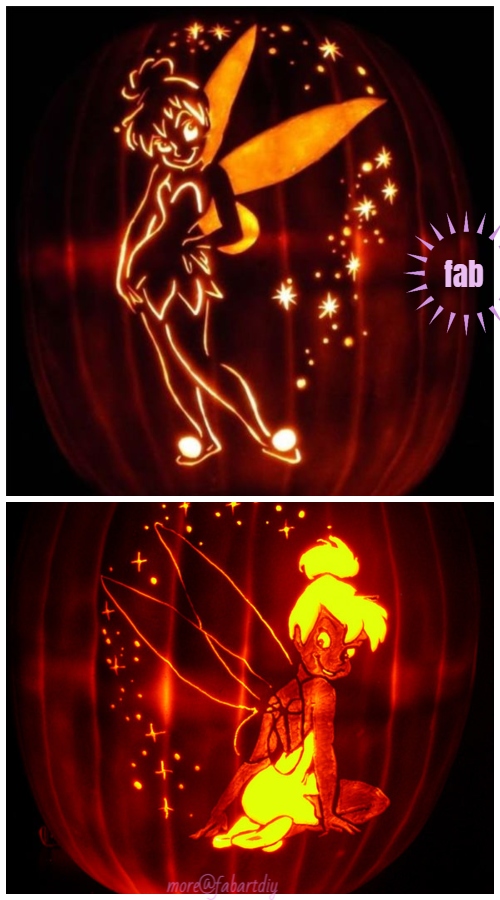 There are many pumpkin stencils and templates available, just google and pick the one you love and follow the tips to make your own fairy Pumpkin lanterns.