20+ Creative Wine Bottle Centerpieces
Many people use wine bottles for making centerpieces, because they are cheap, creative and beautiful. It can be very interesting to collect empty wine bottles and make a table centerpiece by yourself. You don't have to spend money to buy table ornaments, just use wine glasses and your imagination.
Here are 20+ Creative Wine Bottle Centerpieces for your inspiration. They will surely help you decorate your table for weddings, holidays, Christmas and other occasions. If you like these wine bottle centerpieces, please don't forget to share with your friends on social networks.
Vintage Wedding Centerpiece
Patriotic Recycled Bottle Centerpiece
Cowboy Bottle Centerpiece
Paper Flower Centerpiece
Centrepieces with Mosaic Tealight Holders
Wedding Centerpiece
DIY Chalkboard Paint Centerpiece
Chalkboard Painted Centerpiece
Holiday Party Crafting with Wine Bottles
DIY Fall Centerpiece
Rustic Wedding Centerpiece
Diy Wedding Centerpiece
Brown Bottle Fall Centerpiece
DIY Pop Art Centerpiece
Winter Centerpiece
DIY Christmas Centerpiece
Wedding Centerpiece
DIY Yarn Wrapped Wine Bottle Centerpiece
Wine Bottle Candlestick Holders
Candle LOVE Centerpiece
Mini Garden
Wine Bottle Candel Holder Centerpiece
How to Macrame Derweesh Paracord Belt DIY Tutorial
I love this cool Macrame Derweesh Paracord Belt when I saw it at first sight, special designed, a bit challenging but workable with my girls. Macrame is a craft that involves tying knots into decorative patterns. A variety of materials including string, silk, yarn or hemp can be used depending on the desired finished look. I have shared DIY Macrame Owl Tutorial with Video which is so fabulous to use as necklace pendant. I also shared macrame hammock, macrame friendship bracelet DIY tutorials which are perfect to bring macrame craft into fashion and home decoration. In this cool tutorial, you can learn How To macrame A Derweesh Paracord Belt, which is different from traditional paracord or solomon, but a bit more like cobra. This is actually a slightly tricky pattern if you're new to weaving (not that I'm some sort of expert or anything), I would recommend starting with something simpler, like a regular sinnet or cobra stitch. So get the roller buckle and macrame thread and you can make this cool woven belt.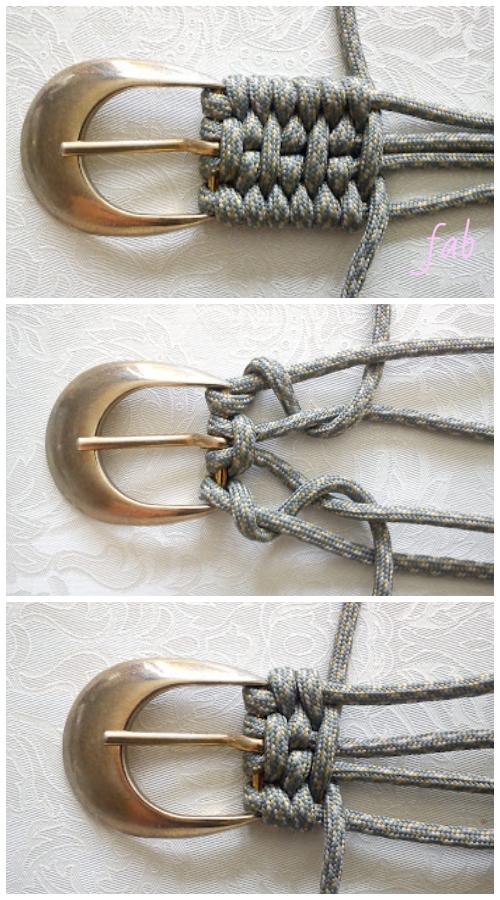 Click the link here for the free DIY tutorial:
Manly Knitting II by Soul Samurai
DIY Macrame Feather With Crochet Cord Free Pattern – Video Tutorial
This Macrame Feather is slight different from the DIY Yarn Feather Tutorial I featured before, it has crochet cord which makes it thicker for hanging directly. Remember these Crochet Feathers Free Patterns? And these beautiful crochet peacock feathers patterns will be your next project for sure, if you love peacock as I do. They are so bright and beautiful for the early Spring crochet, you will need a very little yarn to make a single applique to decorate on your or your little one's outfits. Peacock feather is perhaps the most beautiful feather and it's always fascinating us. This fabulous macrame feather can be a nice gift or souvenir. It's fast and amazing project also great for those who love new and crazy ideas. If you love macrame, don't miss out the DIY Macrame Owl Tutorials.
—- More DIY Ideas —-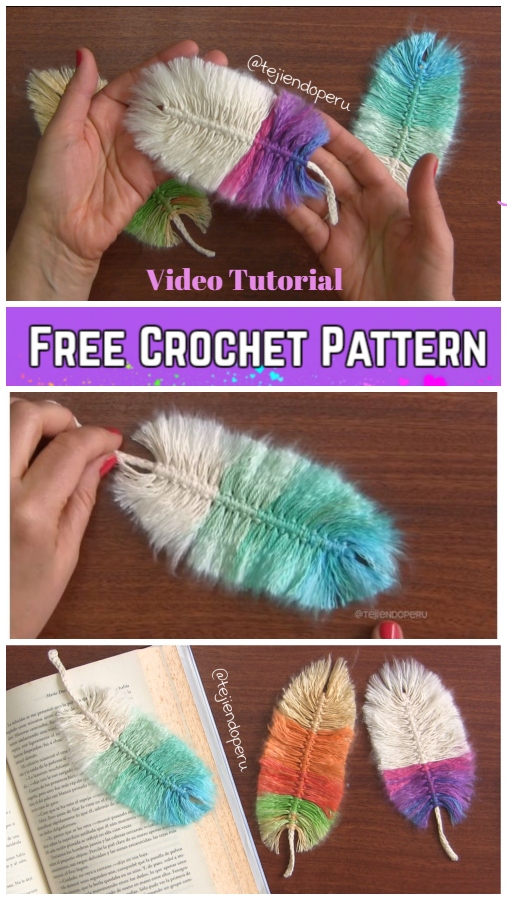 Click the link here to get the free video tutorial:
Macrame feathers / Tejiendo Perú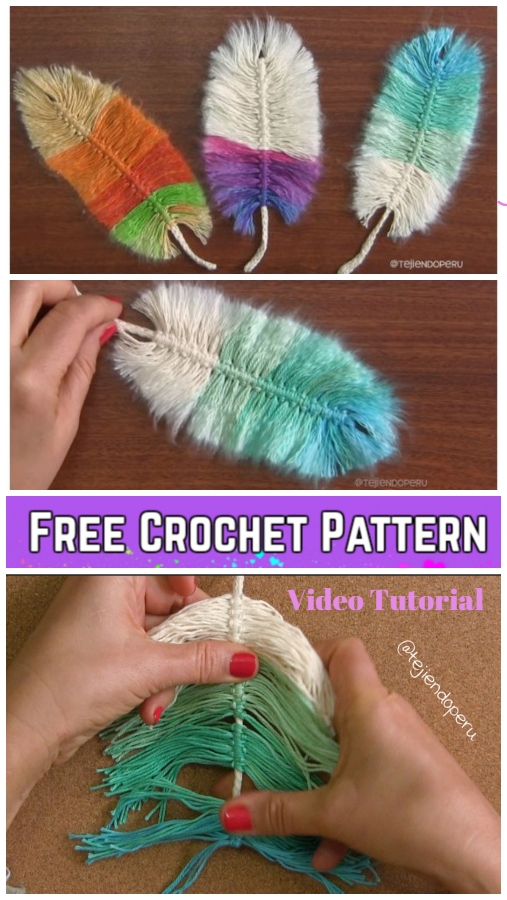 Fabulous DIY Ribbon Flower with Beads Tutorial – Video
Here is a pretty kanzashi ribbon flower with beads, flat at bottom that you can try for accessories, home and bedding, and fashion decoration. I have shared some different kanzashi ribbon flower tutorials that you can check them out if you want some little things to decorate kids outwear or accessories. To make some pretty ribbon flowers for embellishing a simple headband first you have to cut almost 2 inches strips of ribbon. Then fold a strip in a slanting manner as shown. Fold the horizontal end over the vertical end so that they meet and overlap each other as shown. It's basic kanzashi skill, and don't worry if you never try that, the video below is pretty easy to follow.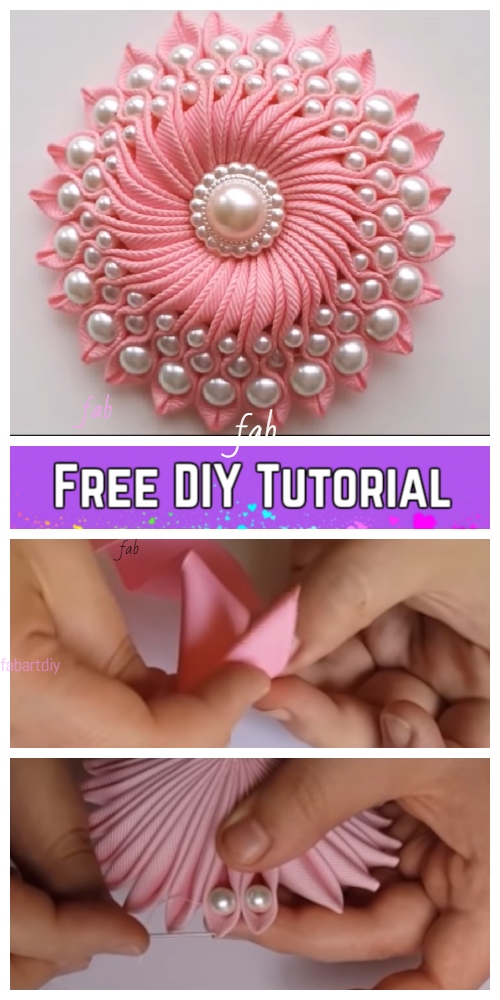 n this video you will learn how to make twisted flower with sewn in beads.
Video: Beezzy Mom Creations